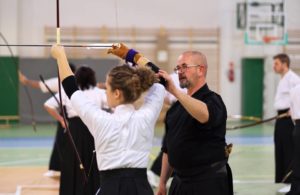 ---
Kyūdō 弓道
We meet in a friendly atmosphere to explore Kyudo – Honda-ryu style, to practice Reiho – Japanese etiquette, and to learn what assists development of artistry in these domains.  We believe that thanks to creating an welcoming space for exchange of experience, we learn to cooperate and respect, we develop empathy, patience, mindfulness and we focus on what connects us with each other.
__________________________
You are welcome to join us every Sunday from 9:30 am to 1:00 pm.
Please, be punctual and help us prepare the hall.
The trainings take place in the sports hall of the 5th high school, Nowolipie Street 8, Warsaw.
If you wish to join the practice of kyudo, please contact us in advance and declare your registry at umemi@umemi.pl
__________________________
Instructor:
Witold Rychłowski – he combines his professional work and passion – he is a kyudo instructor (4th Dan) and he leads Umemi Foundation that supports development and popularization of kyudo in Poland. His professional background includes working in for international corporations. Currently Witold works as a consultant and training expert in negotiations and communication for many Polish and internaional companies. He is a MBA and UW lecturer.
⦿ How to start?
Just join us. We enter the training hall after a talk with the instructor. You shall need a comfortable sport outfit and socks (we practice with shoes off).  For the first few months our students use the available equipment. The instructors are willing to advise you and help you choose the right individual equipment (including an outfit, a bow, arrows, a glove).
☛ Limitations: we offer kyūdō classes to all who are 15 years old and older. This is the only formal limitation. The other issues and hesitations such as age, health condition or level of disaibilaty should be discussed with the trainer responsible for the given classes.
Age, gender or physical condition are no obstacle to training kyūdō. If you re under 18, bring the written permission for traditional archery practice from your legal guardian. No previous experience in archery is needed.
---
Classes take place regularly in Warsaw, Wrocław, Łódź, Poznań, Cracow, Lublin, Opole, Katowice and Gdańsk.
USEFUL LINKS:
Polskie Stowarzyszenie Kyudo  kyudo.pl
Warszawa, Ośrodek Sportów Japońskich BUDOJO budojo.pl
Warszawa, Fundacja Umemi, V LO, ul. Nowolipie 8
Mysiadło, Klub Kyudo Tametomo tametomo.waw.pl
Wrocławskie Stowarzyszenie Kyudo kyudo-wroclaw.pl
TENGUKAI Stowarzyszenie – Centrum Tradycyjnych Sztuk Japońskich tengukai.pl
Kyūdō Ayame facebook.com/kyudoayame
Kyūdō Aoi facebook.com/kyudoaoi
Opole aikido-osa.pl/ kluby/kyudo
Gdańsk fujisan.pl
Katowice facebook.com/kyudokatowice